POW!
2014 – 2018
Video animation, 7 min, 45s, loop
A dragged animated cartoon embodies and voices in the form of a declamation a script composed out of a wide range of references: passionate football reporter Omar Bentancor announcing the goal of Chuco Sosa playing in Argentinos Juniors against San Lorenzo, calm and irritating intonations in the voices of two yoga instructors, recollections of a control-freak demanding mother, and the fierce struggle between superheroes Captain America and The Invisible Woman, a story outsourced from a conversation with a child. The script is delivered to orally evoke what could be rendered as an excessive sign of force within our common everyday spoken language.
The original script was performed at IMMA Irish Museum of Modern Art in March 2014 as part of It Makes us Think of a Dance and a Fête as Much as of War (On Violence), a series of international symposia leading towards the EVA International Biennial AGITATIONISM that opened in Limerick in 2014. The symposium was conceived by Doreen Mende at the invitation of EVA 2014 curator, Bassam El Baroni.
The video animation was produced by the Buenos Aires Museum of Modern Art for the solo exhibition Cuerpos Pájaros (Body-Birds), Buenos Aires, November 2018 – March 2019.
Credits:
Concept, text: Mercedes Azpilicueta
Voice: Mercedes Azpilicueta
Animation and 3D modeling: Azul Demonte
Voice recording and sound editing: Tiago Worm Tirone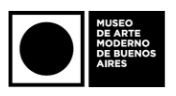 –
POW!
2014 – 2018
Video animación, 7 min, 45s, loop.
Una caricatura animada dragueada encarna y expresa, en forma de declamación, un guión compuesto por un amplio rango de referencias: un relator de fútbol apasionado, Omar Bentancor, relatando el gol del Chuco Sosa jugando para Argentinos Junior contra San Lorenzo, entonaciones calmas e irritantes de dos profesoras de yoga, recolecciones de frases de una madre obsesiva, y la lucha feroz entre los superhéroes: el Capitán América y la Mujer Maravilla, una historia tomada de la conversación con un niño. El guión busca evocar oralmente lo que se podría interpretar como un signo de fuerza excesivo dentro de nuestro lenguaje oral cotidiano.
El guión original fue interpretado en IMMA Irish Museum en marzo de 2014 como parte de It Makes us Think of a Dance and a Fête as Much as of War (On Violence), una serie de simposios internacionales de cara a la Bienal Internacional de EVA que se inauguró en Limerick en 2014. El simposio fue concebido por Doreen Mende por invitación del curador de EVA 2014, Bassam El Baroni.
La video-animación fue producida por el Museo de Arte Moderno de Buenos Aires para la exposición Cuerpos Pájaros, Buenos Aires, Noviembre 2018 – Abril 2019.
Créditos:
Concepto, texto: Mercedes Azpilicueta
Voz: Mercedes Azpilicueta</span
Animación y modelado 3D: Azul Demonte
Grabación de voz y edición de sonido: Tiago Worm Tirone