Cuerpos Pájaros [Body-Birds]
2018
synchronized three-channel video projection
15 minutes, loop
Cuerpos Pájaros [Body-Birds], raises the question of where the collective body begins to emerge and end. This collective body is in a constant state of transformation, formed by many diverse and demystified bodies, more distorted and affected than the ideal standards of beauty. The work is a synchronized three-channel video installation with a script that consists of three voices: one personal, one historical and one theoretical. These three voices interweave reflections on the act of writing as an emancipatory act; on the affectations of the human figure in the Mannerist art; and on the impressions of a spectator in front of the gestuality of the baroque work from Artemisia Gentileschi, Judith decapitating Holofernes. These narratives are superimposed on a collection of short shots of images showing details of knees, necks, torsos, hairs, lips and arms, collected by the artist in Buenos Aires during the summer of 2018. These images are fragments that instead of being reduced to abstractions or showing the body as an object, present features, gestures and poses full of personality, impossible to adapt to the normative corset of a physical "ideal".
Produced by Buenos Aires Museum of Modern Art for the solo exhibition Cuerpos Pájaros [Body-Birds], Buenos Aires, November 2018 / March, 2019.
Credits:
Cuerpos Pájaros [Body-Birds], 2018
Proyección de video sincronizada en tres canales [Synchronized three-channel video projection]
20 min, loop
Concepto, texto y voz [Concept, text and voice]: Mercedes Azpilicueta
Cámara [Camera]: Alan Segal
Edición [Editing]: Mercedes Azpilicueta y Alan Segal
Diseño de sonido [Sound design]: Rodrigo Sobarzo de Larraechea
Grabación y edición de voz [Voice recording and voice editing]: Tiago Worm Tirone
With special thanks to @laleandraok, Gala Iglesias Brickles y Andrés Linietsky.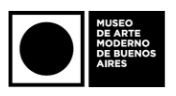 Cuerpos Pájaros [Body-Birds]
2018
Videoproyección sincronizada a tres canales
15 minutos, loop
Cuerpos Pájaros plantea la pregunta sobre dónde el cuerpo colectivo comienza a emerger y dónde termina. Este cuerpo colectivo está en constante estado de transformación, compuesto por cuerpos diversos y desmitificados, más distorsionados que los estándares ideales de belleza.
El trabajo es una sincronización entre tres canales de instalación de video con un guión compuesto por tres voces: una personal, una histórica y una teórica. Estas tres voces intercambian reflexiones sobre el acto de escribir como un acto emancipatorio; sobre los efectos de la figura humana en el arte Manierista, y sobre la reacción del espectador frente a la gestualidad de la obra barroca de Artemisia Gentileschi, Judith decapitando a Holofernes. Estas narrativas están superpuestas con una colección de planos cortos de imágenes mostrando detalles de rodillas, cuellos, torsos, cabellos, labios y brazos; recolectadas por la artista durante el verano del 2018. Estas imágenes son fragmentos que en lugar de reducirse a abstracciones o mostrar el cuerpo como un objeto, presenta rasgos actuales, gestos y poses de la personalidad, imposibles de adaptar al corsé normativo de un cuerpo ideal.
Producido por el Museo de Arte Moderno de Buenos Aires para la exposición individual Cuerpos Pájaros, Buenos Aires, November 2018 / Abril, 2019.