¡Oh Eduarda!
2019
Performance
40 min.
¡Oh Eduarda! was presented at Museo de Arte Moderno de Buenos Aires on April 13 & 14th, 2019 as part of Mercedes Azpilicueta's solo exhibition Cuerpos Pájaros [Body-Birds].
After reading the children's story La Jaulita Dorada by Eduarda Mansilla, ¡Oh Eduarda! composes the dialogue between two sisters, who imagine oniric micro-stories and situations around the idea of homeness. The performance presents a fantastic experience within that domestic sanctuary, where the sisters travel, dream and cross the threshold that separates the public from the private to confess the fear of darkness, of the deformed, of the lack of roots and their desire to be always together.
Fragments of Mansilla's story and biography intermingle in the performance, associating the voices of the sisters with those of Eduarda, the domestic space with the act of writing, the temporality of Eduarda's life with the sisters' childhood memories. Weaving those elements, ¡Oh Eduarda! builds a hypersensitive universe, where objects and animals have voices and memories.
The performance explores the complex cross-link of the notions of displacement, identity, affectivity and homeness.
Credits:
Concept & Script: Mercedes Azpilicueta
Performance: Mercedes Azpilicueta, Agustina Muñoz
Live sound: Liza Casullo
Lights: Matías Sendón
Research: Verónica Rossi
Photo Credits: Guido Limardo & Gregory Bohnenblust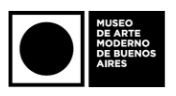 ¡Oh Eduarda!
A partir de la lectura del cuento infantil La Jaulita Dorada de Eduarda Mansilla, ¡Oh Eduarda! compone el diálogo entre dos hermanas, quienes imaginan en un contexto onírico microrrelatos y situaciones en torno del hogar. La performance presenta una experiencia fantástica dentro de ese santuario doméstico, desde donde las hermanas viajan, suenan y cruzan el umbral que separa lo público de lo privado para confesar el miedo a la oscuridad, a lo deforme, a la falta de arraigo y sus ganas, siempre, de estar juntas.
Fragmentos del cuento de Mansilla y de su biografía se entremezclan en la performance, asociando las voces de las hermanas con las de Eduarda, el espacio doméstico con la escritura, la temporalidad de la vida de Eduarda con las memorias infantiles de las hermanas. Con esos elementos, jOh Eduarda! construye un universo hipersensible, en donde los objetos y los animales tienen voces y memorias.
Como en varias de las piezas que componen la exposición "Cuerpos Pájaros", la perfomance da cuenta del entrecruzamiento complejo de las nociones de desplazamiento, identidad, afectividad y hogar.